Special thanks to all our kaimahi and volunteers in the recent 2014-2017 campaign. MANA Te Hiku, MANA Kaikohekohe, MANA Whangarei, MANA Rakipaewhenua, MANA Waitākere, MANA Rangatahi, MANA Tūranga, MANA Waiāriki, MANA Pōneke, MANA Newtown, MANA Pasifika, MANA Mōrehu, MANA 241 campaign, MANA National Exec, MANA Nationbuilder & MANA News Teams and Dave Curren from Ahipara.  Kia ora Titewhai Harawira and Jevan Goulter who provided a bed for us for all the midnight runs we made to Tamaki for media interviews. To the nephews Hirikia & Anaru Murray who loaned us a car for part of the early campaign.
Thanks also to our list candidates Lisa McNab, James Papali'i and Tracey-lee Repia.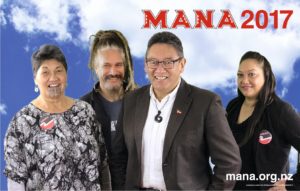 Special thanks to Whaea Mei and Papa Eric Nelson who ran weekly barbecues to pay for the MANA Kaikohe office rent for 3 years. To the Pene Whānau for their tautoko in providing bus and vans promotion but also their wrap around aroha in haerenga. To Te Rana Porter who put her life on hold for 6 months to coordinate the ground campaign- thanks Whaea Lil , Scarlett, Nukutawhiti , Taihoronuku and mokopuna as you put up with her absence.
Our volunteers throughout all the branches are awesome and we all learnt valuable lessons from others and each other. Everyone operated on aroha & kore putea.
Thanks to everyone who gave moral support and those who were threatened with loss of contract opportunities. Kia ora to the courageous ones who supported the 2 Tai Tokerau MPs for 1 electorate (241) campaign: Rawiri Paratene, Tame Iti, Te Hamua Nikora, Carl Perkins, Hone Ngata, Kahurangi Tariana Tūria, Dr Lance O'Sullivan, Casey Panapa & Raewyn Tipene.
Especially enjoyed working with Hinurewa Te Hau from Māori Party Tai Tokerau & Tukuroirangi Morgan the national president of Māori Party- who are both earnest about forging a meaningful relationship between MANA and Māori. Also appreciate the indomitable Marama Fox and re- connecting with Te Ururoa Flavell on the recent haerenga through Tauranga and Waiāriki.
MANA Movement continues. We are holding a series of hui over the next 2 weeks in Tai Tokerau and also with active members from other regions, to consider where to from here. We are not ruling out anything.
MANA House in Kaitaia stays open to continue with Kaupapa Māori projects in Tai Tokerau- coordinated by Hone Harawira. Already he has had 2 whānau issues come to him this week and it's only Wednesday. Will have to change the sign outside the office to- "not the MP" for Tai Tokerau.
MANA Movement is about believing we can solve our own issues, just need the resourcing, and if we don't have resourcing will do it anyway.
Our policies are awesome and can be built on. There is much advocacy to do outside parliament. Also , already everyone has gone back to work doing the day to day MANA mahi we do anyhow.
It's really important we continue to write our own stories , rather than allow ourselves to be defined by Pakeha media and some times Māori media that want us to respond to trending stories. One thing I learnt from Ranginui Walker, he challenged Māori academics to write commentaries about why a particular protest was taking place and the issues that preceded it. To put it in the main stream space as they always struggled with understanding what was going on. The role of Māori journalists is not to bury the activism.
MANA Movement will be putting further submissions to the Electoral Commission. We have had a good relationship with the local Tai Tokerau office but there are still matters to address. We won some gains post the last 2014 elections, but seriously there is still a way to go.
5 main kaupapa for us will be:
a) Honour Mehara's vote, which will tautoko all those who may have died during the recent 2 weeks of the advance campaign; why should their votes be extinguished in death?
b) all Māori automatically go on to the Māori roll until they turn 18 and choose otherwise
c) all citizens get to vote, regardless of an address change;
d) entrench and increase the number of Māori seats;
e) ensure there are Māori friendly polling booth managers and tikanga in high Māori population booths. Some behaviour in the recent elections to our people have been shocking. One booth had one person managing Māori voters with queues out the door. People get hōhā and walk off.
If anyone has any comments they want us to put forward to the Electoral Commission, please post here or email hilda@manataitokerau.org.
Māori Party and MANA have contributed to changing the political landscape in the past 12 years. Matiu Rata, I'm sure would be proud. Eva Rickard would be proud. I am. We should all be proud.
In my heart of hearts, it would be nice if the special votes come in and take one Māori Party MP back in to Parliament- to hold us all afloat. As my mother Frances Halkyard said, it's not nice for our kaumātua to be treated as he was. Te Ururoa's emotions were there for all of us to see. His grief epitomised how we all felt, our loss of potential , our loss of capacity to make change in a parliamentary setting . Parliament is not the be all and end all of our Movement. And like all humans, that no matter what gains we make, Māori will be punished for a wrong turn.
Sure there are lessons, our people will have disagreed with Te Ture Whenua and kaupapa Māori parties need to align with Māori needs. MANA lost support for the statement " execute the meth drug importers." The loss of our Toa Metiria Tūrei had a huge impact on us. Marama Davidson will take over her role and ensure the Māori and pohara voice is still heard.
Shane Taurima fought a valiant campaign in Tamaki. Loved his verve and commitment to Tamaki constituents for months. Unfortunately, the Greens candidate split the vote and left Labour a clear field. We need to get smart for the next election.
Will leave it up to the current Māori MPs to shutdown the Brash's of the world. Brash doesn't know it , but William Hobson's mokopuna are the ones leading the reo Māori and health campaigns in the Far North. So he should stop talking about Hobson's legacy.
Just because an MP has Māori blood does not mean they will fight for Māori interests. Winston is a worry, an apologist for kaupapa Māori. Winston has lots of good ideas but abolishing Māori seats – sucks. Will leave it to Shane Jones to sort him out before Winston tries to ram it through.
In the general seats, there are baldheads clamouring to relegate kaupapa Māori to the 2050 aspirational list. Our general seats MPs with Māori blood will go along with it , to hang in there.
There's a million other things to do for MANA- but all in good time. It's not over yet. Believe in ourselves, believe in Māori. Our communities are small, we are always related through some connection. We do good things, we f up. We learn , we forgive ourselves and carry on.
Ngā manākitanga o te runga rawa ki a tātou katoa .
H Halkyard-Harawira